Physical Activity & Adapted Physical Activity
MS, Kinesiology & Rehabilitation Science
The Department of Kinesiology and Rehabilitation Science (KRS) in the College of Education offers a Master of Science (MS) in KRS degree program with two areas of concentration: Physical Activity/Adapted Physical Activity, and Rehabilitation Counseling.
The MS degree program provides opportunities for students who wish to pursue advanced knowledge and research in one of those concentrations. Students interested in Physical Activity (PA) or Adapted Physical Activity (APA) must meet the admission requirements of Graduate Division and KRS. Both areas assist in the development of the knowledge and skills that may relate to achievement of outcomes leading to national certification (i.e., national board certification in teaching or nationally certified adapted physical educator) as well as becoming familiar with the literature and models for promoting, measuring, teaching, and conducting physical activity research across the lifespan.
The program is comprised of 30 credits and typically takes two years to complete. A thesis, project option, or comprehensive exam is provided as a culminating degree requirement. In addition, each student must seek a KRS faculty advisor as part of completing a thesis, project option or comprehensive exam. This KRS faculty advisor will be responsible for directing, advising and mentoring the student. This KRS faculty advisor differs from the department Graduate Chair. Enrolled students in the PA or APA concentration will develop basic competence in reading and conducting research related to physical activity across the lifespan and for diverse groups. Students will have opportunities to expand their knowledge through coursework in areas across the lifespan from early childhood to late adulthood. Areas of coursework outside of KRS may be in public health, educational psychology, and educational administration. Others may be available pending consent from a KRS faculty advisor.
Who Should Consider This Program
The MS in physical activity is for those already certified, or have a BS, in fields like: athletic training, biomechanics, exercise physiology, strength and conditioning (CSCS/PES), and personal training. Specifically, the program is for students looking to obtain an entry-level research experience in exercise science via Plan A Thesis or Plan B. Research topics are in fields like athletic training, biomechanics, and exercise physiology.
Common Careers
Student will move onto careers based on their individual certifications. Students typically move into clinical positions in secondary schools, colleges/universities, or professional sports. Since there is an emphasis on research and master's plan A thesis development, the program also is designed for those looking to pursue a doctoral PhD in their respective fields.
Admission Requirements
Must have graduated from an accredited, four-year institution of higher education recognized by the University of Hawai'i at Mānoa (UHM), prior to beginning the MS, Kinesiology & Rehabilitation Science: Physical Activity & Adapted Physical Activity (PA/APA) program.
An Undergraduate Cumulative GPA of 3.0 or higher.
The GRE is no longer required for admission to this program, effective for Fall 2023. The GRE is required for PhD programs only, and scores cannot be older than five years from the application deadline.
A transcript from each post-secondary institution attended.
A written statement of objectives as part of your application.
Your resume or CV.
Three (3) letters of recommendation
Applicants who are not native English speakers may need to take the TOEFL or IELTS (Academic) tests. For more information view the Graduate Division website.
International students are required to submit a copy of their Identification documents (i.e. Passport or Identification Card)
International applicants need to show proof of sufficient funding to cover all educational and living expenses
Delivery Format
KRS courses are offered as live, hybrid, and fully online via the Manoa campus. Courses are scheduled within the standard UHM semester.
Coursework
Courses are dependent upon the program the student is accepted (MS PA or APA).
6 credits of required core
MS PA 18-21 elective credits
MS APA 18-24
Student Learning Outcomes (SLO)
SLO1: Understand and Explain content in movement and pedagogy.
SLO2:  Represent and communicate content knowledge to make it comprehensible to learners (i.e., pedagogical content knowledge).
SLO3: Understand processes and methods of systematic intentional inquiry about learning and teaching in physical activity.
SLO4: Demonstrate understanding and application of content knowledge and pedagogical content knowledge appropriate to the learners, the learning environment and long- and short-term outcomes/goals.
SLO5: Demonstrate integration of planning, instruction and assessment as a unified process to achieve long- and short-term outcomes/goals.
SLO6: Demonstrate differentiation of instruction based on personal and cultural characteristics of learners particularly persons of color and Native Hawaiians.
SLO7: Demonstrate systematic inquiry about the practice and the learners served.
SLO8: Understand processes and methods of systematic intentional inquiry about learning and teaching in physical activity.
SLO9: Conduct inquiry into professional knowledge and practice, and communicate results of inquiry to the profession and community.
SLO10: Continue personal development through contributions to the growth and professional learning of others.
Advising & Faculty
Our faculty and staff will provide you with guidance and resources to support your success from beginning to end. You will receive a dedicated faculty advisor to partner with you on your journey.
Program Coordinator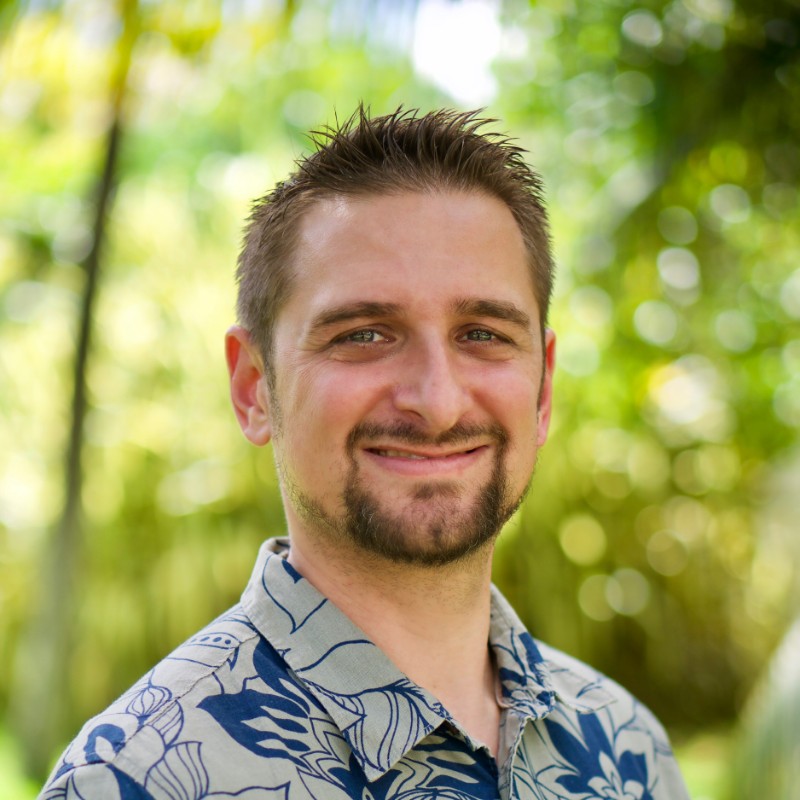 Bret Freemyer
Assistant Professor