Multilingual Multicultural Professional Practice
Graduate Certificate
The Multilingual Multicultural Professional Practice Graduate Certificate (MMPP) is a 15-credit interdisciplinary program that educates and trains graduate students from various disciplines to exemplify multilingual multicultural awareness and understanding in their professional practices, and in collaboration with professionals from other disciplines. It is a joint partnership between the College of Education (COE). the College of Arts, Languages & Letters (CALL), and other UHM professional schools, such as the Law School, whose overarching goals are to promote social justice, equity, and sustainability. The certificate cultivates a strong sense of place, building upon Hawaiʻi's unique cultures and languages, while also preparing graduates to be leaders in multilingualism, multiculturalism, and linguistic human rights. Students will be able to:
Critically analyze multilingual and multicultural contexts.
Identify problems and needs across disciplines, professions, and orientations, and create solutions and programs.
Evaluate impacts of work with multilingual and multicultural communities and individuals to support a flourishing, sustainable, multilingual, and multicultural society.
TESOL Option
Students also have the option of adding the TESOL (Teaching English to Speakers of Other Languages) Licensure Add-a-Field to their existing Hawaiʻi state teaching license upon the successful completion of set coursework for the MMPP Graduate Certificate.
Learn more about the TESOL Licensure Add-a-Field
The interdisciplinary MMPP Graduate Certificate is part of the UHM OVCAA's Multilingual Multicultural Strategic Initiative, whose mission is to connect and enhance UHM strengths as a multilingual and multicultural environment through collaborative curriculum development, interdisciplinary research, and community partnerships.
Many of our students choose to enroll concurrently in this program and in the College of Education's Master's in Curriculum Studies focused on Multicultural Education. 
Who should consider this program
The MMPP will serve professionals working with multilingual and multicultural communities in the state. It is available to both graduate students enrolled in degree programs at the university and professionals working in the community. The certificate enhances their opportunities to work across disciplines and collaborate on problem-solving around common issues.
The MMPP can serve as an entry point into degree programs. It can also be complementary and show specialization within a degree program, for example:
education professionals can benefit from a certificate that specifically upgrades their multilingual multicultural knowledge and skills in the context of schooling;
legal professionals can benefit from a qualification showing additional expertise in local, community-oriented matters (where multilingual and multicultural competencies are relevant).
Admission Requirements
Must have graduated from an accredited, four-year institution of higher education recognized by the University of Hawai'i at Mānoa (UHM), prior to beginning the MMPP/TESOL program.
An Undergraduate Cumulative GPA of 3.0 or higher.
A transcript from each post-secondary institution attended (except for UH System transcripts)
A written statement of objectives as part of your application.
Your resumé or CV.
Two (2) letters of recommendation
Admission Deadlines
| Starting Semester | EARLY Admission | GENERAL Admission |
| --- | --- | --- |
| Summer | December 1 | February 1* |
*Applications will be reviewed upon receipt on a rolling basis beginning February 1. Applications may be accepted until a cohort fills.
We are currently not admitting international students residing outside of the US into our hybrid or online programs due to legal and tax implications. For more information, please contact Graduate Division at gradss@hawaii.edu.
How to Apply
Delivery & Format
The MMPP courses are hybrid. Cohorts begin annually during Summer. Each cohort will span one academic year, plus the preceding summer (i.e., Summer, Fall, Spring).
Coursework
The MMPP graduate certificate will be fifteen credits.
Two core courses (SLS 680U Introduction to Multilingualism Multiculturalism, EDCS 696 Graduate Certificate Capstone) will be taken with students from across disciplines.
Three courses will be elective professional courses that focus on multilingual multicultural aspects of the professional field in the context of Hawai'i (e.g., Curriculum Studies, Second Language Studies, Law, and Linguistics)
Across the curriculum as a whole, Hawaiian culture, history, and language are foundational in every course and important in understanding our multilingual multicultural context.
Students may be eligible to add a TESOL Licensure Add-a-Field to their existing Hawaiʻi state teaching license upon the successful completion of the MMPP. For educators wanting a TESOL Licensure Add-a-Field, they are advised to take a set of professional courses aligned to the Hawai'i Department of Education Nā Hopena A'o (HĀ and BREATH, Policy E-3) and the TESOL International Association P-12 Teacher Education Program Standards.
For more information on coursework and a full list of courses view the CS Handbook.
International Students
International applicants already residing in the U.S. with a student visa will have restrictions on the number of online course credits they can enroll in, and may or may not be eligible to enroll in this certificate program. International applicants not residing in the U.S., and with no plans of entering the U.S. are ineligible to apply. If you are an international applicant, please contact the Department Chair below to verify eligibility before you begin preparing your application.
Advising & Faculty
Our faculty and staff will provide you with guidance and resources to support your success from beginning to end. You will be able to choose or be assigned a faculty advisor to partner with you on your journey.
Patricia Halagao
Professor, Department & Graduate Chair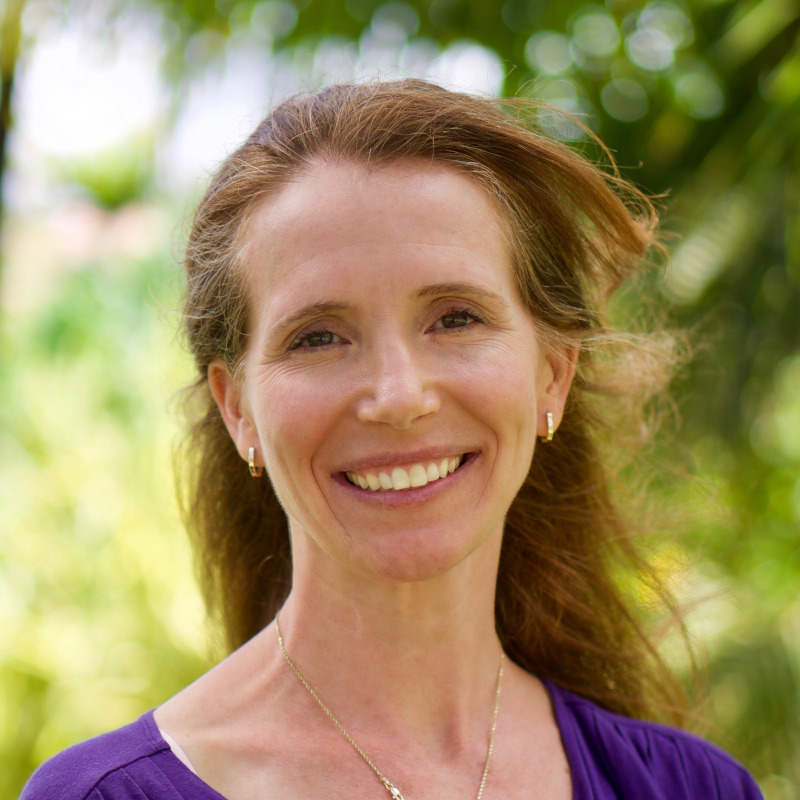 Elizabeth Chapman De Sousa
Associate Professor/Cohort Coordinator